Practical Guides
Raffia: a natural plant fiber « which grows in tropical regions and on humid soils »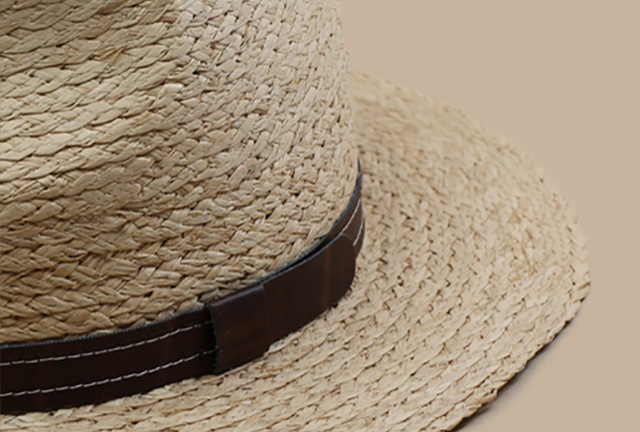 What is Raffia?
Raffia fibre is obtained from the raffia palm, which grows in tropical regions and on humid soils in Madagascar, Africa and the Philippines.
The raffia palm has long leaves that can reach up to 18 m, making it the palm with the largest branches. Each palm branch consists of about 100 leaflets, which are cut and pulled out in parallel lines, resulting in a long, continuous, light green fibre. Made from 100% natural plant fibres. Whether it's a craft project or a natural bow, raffia fulfils your need to express yourself naturally!
How to renovate a raffia hat
The densely woven raffia braid offers excellent sun protection and can be reshaped with steam or water. Raffia contains a natural resin and although it starts to degrade and soften after a while, you can help reactivate the natural resins by using a little steam. Your hat has been blocked by our experts and should return to its original shape. Fill the crown with ordinary, colourless tissue paper to dry and hold the shape.
Useful tips: Raphia
In case of rain - Try to avoid getting the hat completely wet, but if you do, shape it and let it air dry overnight.
In case of deformation - If your hat becomes misshapen, you can use steam from a tea kettle to reshape it. Hold the hat in the steam and let it soften. You can then return your hat to its original shape and let it cool before
wearing it.
Re-cap large lines Raffia
« Raffia is essentially a form of straw. It is very easy to work with and gives an effective natural look. »
1.Raphia Palm
2.Madagascar, Africa and the Philippines
3.The most resistant of all straws
4.Excellent sun protection
5.100% natural plant fibres